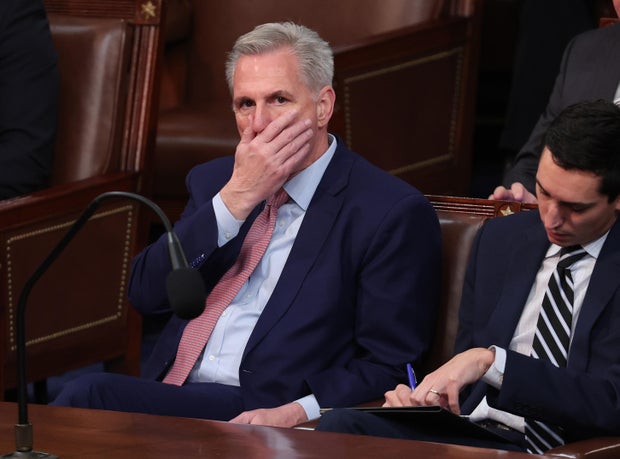 U.S. House Minority Leader Kevin McCarthy (R-Calif.) reacts as members cast their votes for Speaker of the House on the first day of the 118th Congress on January 3, 2023. Getty Images
The humiliation of Kevin McCarthy and the repugs is complete after McCarthy got denied the speakership of the house 11 times but maybe even more!!! thanks to the MAGAs who hate his guts to no end. As one wag said after the midterms, it's going to be a shit show for the ages and he's right.
WASHINGTON — Some of the hard-right lawmakers opposing Representative Kevin McCarthy, Republican of California, for speaker have nursed grudges against him for years. Others have not even been sworn in to Congress yet.
The revolt against Mr. McCarthy, who for years had been considered the obvious choice for speaker should Republicans win control of the House, has been led by a small coterie of ultraconservative lawmakers who have been the most outspoken about their opposition to him. The rebellion also includes a larger but quieter group of lawmakers who have long agitated for changes in the way the House operates, and a set of newcomers.
With a razor-thin majority and Democrats opposing him unanimously, Mr. McCarthy must secure near-total support among Republicans to win the top post. He failed to do so on Tuesday, losing three votes before the House adjourned without selecting a speaker. Lawmakers will reconvene at noon on Wednesday to continue.
Mr. McCarthy has made a cornucopia of concessions to try to sway his detractors, most notably agreeing to a rule that would allow a snap vote at any time to oust the speaker. But the rebels have remained unmoved, even after prodding from former President Donald J. Trump, the most popular figure in the party, and a hard-right colleague, Representative Marjorie Taylor Greene of Georgia.
But there's hope. Fabulist Elect George Santos should be speaker as he embodies the soul of the repugs in all ways regarding the art of governance, right?
Member of the U.S. House of Representatives
from New York's 3rd district
Addendum
, Kevin, crawl under a rock and hide. Humiliation to the max applies. To whit ...