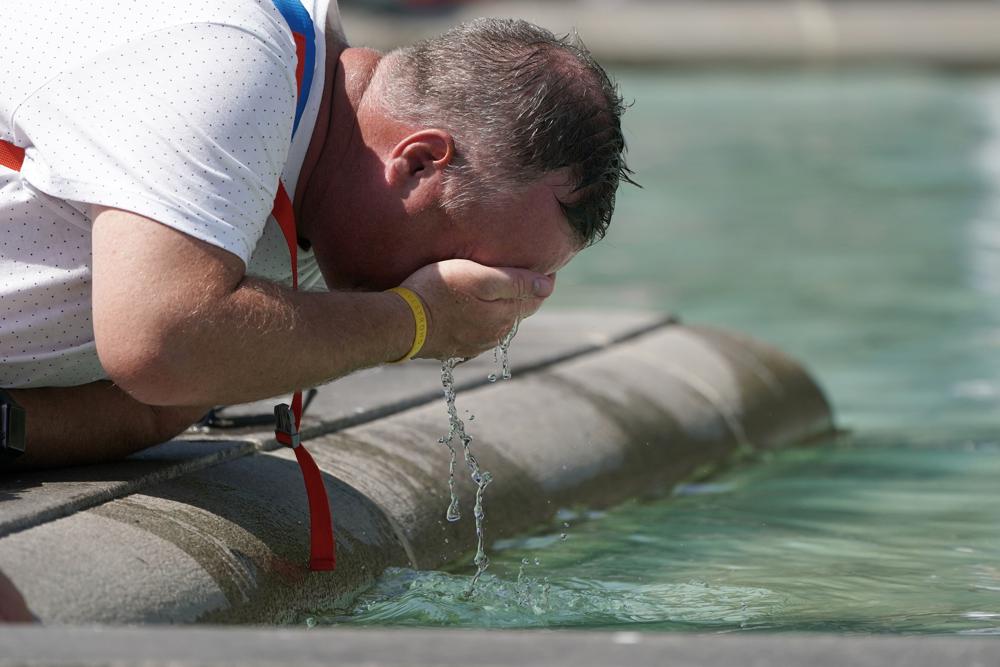 Remember when summer was dedicated to fun. You know, burgers, hot dogs, a walk in the park, a day at the beach, pleasantries we all enjoyed just a few years ago. Now, it's become the season of dread, where temps go into the stratosphere and wildfires bloom just like wildflowers, showing us an unpleasant prelude as to what's coming as we move further into the 21st century.
LONDON (AP) — Britain shattered its record for highest temperature ever registered Tuesday amid a heat wave that has seized swaths of Europe — and the national weather forecaster predicted it would get hotter still in a country ill prepared for such extremes.
The typically temperate nation was just the latest to be walloped by unusually hot, dry weather that has gripped the continent since last week, triggering wildfires from Portugal to the Balkans and leading to hundreds of heat-related deaths. Images of flames racing toward a French beach and Britons sweltering — even at the seaside — have driven home concerns about climate change.
The U.K. Met Office registered a provisional reading of 40.2 degrees Celsius (104.4 degrees Fahrenheit) at Heathrow Airport — breaking the record set just an hour earlier. Before Tuesday, the highest temperature recorded in Britain was 38.7 C (101.7 F), a record set in 2019.
Update ...
The Meteorological Office, U.K.'s weather office, announced a temperature of 40.2 Celsius (104.4 Fahrenheit) was provisionally recorded Tuesday in London. A temperature of 39.1 C (102.4 F) was provisionally recorded earlier in the day in the English village of Charlwood in Surrey.
While in Europe ...
Firefighters operate at the site of a wildfire in Pumarejo de Tera near Zamora, northern Spain, on June 18, 2022. Cesar Manso | AFP | Getty Images
Dubbed a "heat apocalypse" by one French meteorologist, many nations in Europe are sweltering under record temperatures, causing devastating wildfires in some parts of the continent.
Spain and Portugal have seen over 1,000 deaths in the last week attributed to the weather, according to Reuters. Firefighters in France and Greece have also been out in force to try to combat huge wildfires in rural areas.
Heat records have been broken in many parts of Western Europe, with Britain recording its hottest-ever day Tuesday, with temperatures hitting a high of 39.1 degrees Celsius (102.4 degrees Fahrenheit).
Remember, this is just the beginning ...